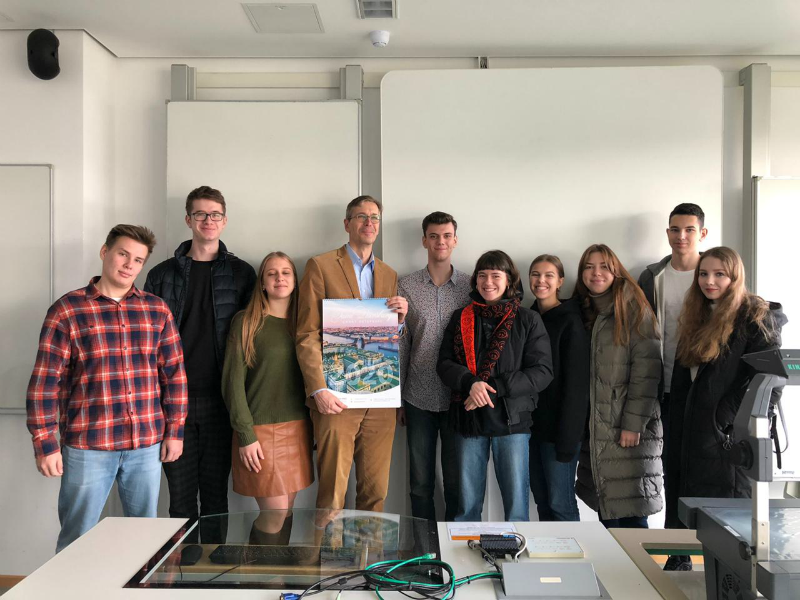 1– 8 of December the Graduate School of Service and Trade delegation visited the University of Applied Sciences (Hochschule Stralsund - University of Applied Sciences in Germany).
The delegation included: Deputy Development Director R. Ikramov, Head of the direction "Trade and Commerce" V. Bakharev and students studying in the field of "International Trade".
During the visit consultations were held on current issues of the educational program with the possibility of obtaining two degrees in the field of "Trade and Commerce", issues of holding joint scientific and practical conferences for students of St. Petersburg Polytechnic University and of the University of Applied Sciences were discussed. For students of the Polytech lectures were attended by the leading professors of the partner university Dr. Björn Jacobsen and Dr. Marcus Scheibel.
In addition, the delegation visited the Chamber of Commerce and Industry of Rostock. Here the guests got acquainted with her work. They discussed the development of international cooperation of the German federated state of Mecklenburg-Western Pomerania with foreign partners in the field of trade and tourism, located, in particular, in Russia.
A meeting was also held with the Director General of Insellogistik Rügen / Hiddensee GmbH Frank Sossnovsky, with whom internship issues were discussed. Director Sossnowski gave a warm welcome to our delegates and made a presentation about the company's activities for students.
The informal part of the trip was also eventful. Students of Polytech visited the Stralsund Christmas markets, as well as the largest Christmas market in north of Germany in Rostock. A memorable event was an island tour of Rügen, the largest island in Germany.
At the end of the visit the delegation visited Berlin. In the German capital the Reichstag building was visited, which currently houses the Bundestag (German Parliament), as well as the significant sights of the city.
The Graduate School of Service and Trade expresses its great appreciation for organizing a high-level visit to Dr. Hiltgunt Fanning, professor at the University of Applied Sciences in Stralsund and hopes for further cooperation